Corporate Support
The meeting is organized around seven themes that will run as simultaneous sessions: 1) Vascular Development and Aging 2) Vascular Beds and Cells 3) Vascular Physiology 4) Translational Research 5) Vascular Diseases 6) Vasculature
in Diseases and 7) Emerging Topics and New Technologies. This is your opportunity to reach over 800 scientists in a variety of disciplines where more than 80 experts in vascular biology and related fields will discuss their newest findings.
Diamond Level - Special thanks to Kowa, Host of the Welcome Reception.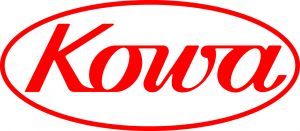 Platinum Level (contribution of $15,000) will be named as the host of one of our three poster session lunches and will receive all the benefits received by Strategic Partners, plus optional booth space, additional acknowledgements in our
mobile app, a full page ad in our Summer Newsletter, a banner ad in four issues of our electronic newsletter (NAVBO NewsBEAT) and of course additional signage at the supported lunch.
Gold Level (contribution $10,000 to $14,999) will obtain the benefits associated with a Strategic Partner, plus optional booth space, a half-page ad in the NAVBO Summer Newsletter, a splash screen in the mobile app and be listed as a
Gold Level Supporter in meeting signage. In addition, a Gold Level Partner may choose to support a particular session and have additional signage recognizing this support.
Strategic Partner (contribution $5,000 to $9,999) will receive acknowledgement on all promotional materials including the NAVBO newsletters, the meeting web site, signage, slides, and a banner ad on the mobile app. A Strategic Partner
may choose to support a particular refreshment/coffee break and be acknowledged for this with additional signage at the break. Also, you may add a pdf of a product or service promotion to our "virtual conference bag."
Event Partner (contribution $2,500-$4,999) will receive acknowledgement on promotional materials, the web site, signage, and the newsletter. Also, you may add a pdf of a product or service promotion to our "virtual conference bag."
ADDITIONAL OPPORTUNITIES:
Contributors at the Diamond, Platinum, and Gold Levels Partners may choose to reserve a complimentary booth in the poster sessions for exhibiting products or literature. If a representative is sent to man this table, his/her registration fee will be waived, however, all travel and lodging expenses will be the responsibility of the "partner." This representative will be permitted to attend all sessions, breaks and receptions.
Contributor - For educational grants up to $2,499, an organization will be recognized as a "Contributor" and will be acknowledged as such on promotional materials, the meeting web site, the mobile app, and the NAVBO newsletter.*
Literature Table ($750 for one 6' draped classroom table, no signage or acknowledgement provided) Displays will be set up near the session area and are available to non-profit organizations, government agencies and
academic or medical institutions only.
For all sponsors and partners:
If you choose, your organization's logo, in addition to its name, may be included on above mentioned promotional materials. Names (or logos) of partners will have a link to the organization's web site from our web site.
No sponsor or partner may have influence in the programming of this meeting.
* Acknowledgement is contingent upon funding being received prior to production of any printed piece and must be confirmed by September 15, 2022, to assure recognition on signage.
If you have any questions, please contact Bernadette Englert at (301) 760-7745 or via email at bernadette@navbo.org
Contributors