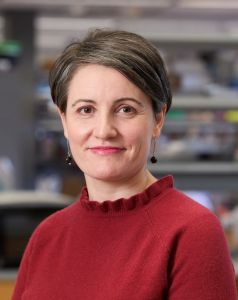 Stefania Nicoli, Ph.D.
The NAVBO Meritorious Awards Committee, the Scientific Advisory Board, and the NAVBO Council announce with pleasure the selection of Stefania Nicoli, PhD, as the recipient of the 2022 Judah Folkman Award in Vascular Biology.  This award recognizes outstanding contributions from vascular biologists who are at mid-career (within fifteen years of their first faculty appointment). Dr. Nicoli will present her Folkman Award Lecture, tentatively titled, "RNA based mechanisms guiding endothelial cell behaviors," and receive the award at IVBM 2022 in San Francisco, California, October 15, 2022.
Dr. Nicoli received a Bachelor's degree in Pharmaceutical Biotechnology from University of Milan in 2003 and a PhD in Biomedical Biotechnology in 2007 from the University of Brescia. Following post-doctoral studies at the UMASS Medical School with Nathan Lawson, she joined the faculty of the Department of Internal Medicine/Cardiology at Yale University School of Medicine in 2012 as an Assistant Professor. She was promoted in 2018 to Associate Professor in Genetics and Internal Medicine/Cardiology, and currently serves as Director of the Yale Zebrafish Phenotyping Core for Precision Medicine and Co-Director of the Yale Cardiovascular Research Center.
Dr. Nicoli and her colleagues have been pioneers in the use of Zebrafish models to understand how small non-coding RNAs coordinate cardiovascular and neuronal development and how these processes may be compromised in diseases such as cancer, atherosclerosis, and stroke. Exploiting the conservation of mechanisms that govern blood vessel formation in humans and Zebrafish, Dr. Nicoli's studies have yielded novel insights on vascular development and function. microRNAs (miRNAs), highly conserved non-coding small RNAs that post-transcriptionally regulate gene expression, function in a number of different biological processes, including cardiogenesis, muscle development, oncogenesis, brain morphogenesis, and hematopoiesis. The Nicoli lab recently reported that microRNAs are required to maintain the homeostatic level of glycans at the cell surface of the endothelium as a mechanism to regulate hemogenic and hematopoietic fate. These findings suggest the presence of post- transcriptional mechanisms that dictate embryonic hematopoiesis and may control the heterogeneity of endothelial cell behaviors. Other areas of research focus in Dr. Nicoli's lab include identification of genetic signaling pathways that direct normal vessel formation and identification of mechanisms that build the neurovascular system.
Dr. Nicoli has published upwards of 29 peer-reviewed papers in top-notch journals, as well as numerous reviews, editorials, and book chapters. She has built an extraordinary record of research funding and is highly in demand as a speaker, with ~40 invited presentations since 2010. Writing in support of Dr. Nicoli's nomination for the Folkman Award, her professional colleagues note that she "…is a superb colleague and role model. Her work is always of the highest quality, is highly innovative, with extraordinary mechanistic depth and breadth, driving discovery of new biological paradigms and phenomena." And from another nominator: "Her work represents a fearless approach that spans many aspects of endothelial cell and vascular biology that are less investigated. In addition to its intellectual importance, her work demonstrates a level of innovation and creativity that is very unusual for any investigator, but especially for a fairly young investigator. I consider her a new leader in the field and someone highly deserving of the Judah Folkman Award." Finally, her early promise as a researcher was recognized by NAVBO, which awarded Dr. Nicoli the Springer Junior Investigator Award in 2016.
Please join us at IVMB2022 this October to honor Dr. Nicoli as she receives the Folkman Award in recognition of her accomplishments…and bright future…as a vascular biologist.