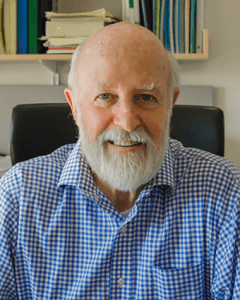 Richard Hynes, Ph.D.
The 2022 Stephen Schwartz Award is sponsored by Barbara Schwartz and Family
NAVBO's Meritorious Awards Committee is pleased to name Richard Hynes, PhD, as the 2022 recipient of the Stephen Schwartz Award. Named in honor of Dr. Stephen Schwartz, a revered and beloved member of NAVBO and co-founder of the society, the award recognizes a mentor who has contributed significantly to the successful career of scientists who have trained in their laboratory, as well as served as an exemplary mentor to graduate students and postdocs, and who has contributed to fostering an environment which facilitates both professional and personal growth. This year's award is being supported by Barbara Schwartz and family. The award will be presented on Sunday, October 16, 2022, at the 22nd International Vascular Biology Meeting.
Dr. Hynes is currently the Daniel K Ludwig Professor of Cancer Research at MIT. He earned an undergraduate degree in Biochemistry at Cambridge University and completed his PhD in Biology at MIT in 1974. Following postdoctoral study at the Imperial Cancer Research Fund in London, he joined the biology faculty at MIT in 1975. He held leadership positions in Biology and MIT's Center for Cancer Research and was a Howard Hughes Medical Institute Investigator for over 20 years. He assumed the Ludwig Professorship in 1999.
Dr. Hynes has had an extraordinarily productive career as a life science researcher, evidenced by >400 publications, continuous grant support, and numerous awards (including the 2010 Earl P. Benditt Award from NAVBO). Beyond these achievements, Dr. Hynes has served multiple succeeding generations of scientists as a conscientious mentor, counting well over 100 graduate students, postdocs, and visiting scholars from across the globe among his trainees. The record of accomplishment of these trainees, many of whom are well-recognized leaders in their fields and of organizations like NAVBO, speaks volumes of his effectiveness as a mentor.
One of Dr. Hynes's nominators, one of his former trainees, notes that "…Richard embodies what one could call an ideal mentor. Someone who allows room for growth and development, who is always honest yet never puts you down, someone who inspires to be a better scientist and a better person." Moreover, "Richard's mentorship also extends to people he did not train directly. His goodwill, generosity, and empathy are examples of personhood that I strive to emulate and pay it forward." Another former trainee observed that "From the beginning, he taught us to be critical thinkers and imaginative scientists. He never laid boundaries and allowed us all to make discoveries in a way that, I realize now, is uncommon for a scientist of his caliber." "Even after leaving his lab, he would always continue to support and guide our successes as independent scientists with little to no tangible benefit to himself. That's a very special quality and should be recognized and commended at the highest level." The common threads running through the letters of support for Dr. Hynes included his fairness, unflappable demeanor, his attention to equity, and preparing female trainees to face the challenges they may encounter as women in science.
Please join us in Oakland this October to honor 2022 Schwartz Award recipient Dr. Richard Hynes.