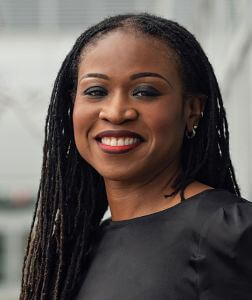 Omolola Eniola-Adefeso, Ph.D.
NAVBO's Meritorious Awards and Diversity, Equity &  Inclusion Committees are pleased to name Omolola Eniola-Adefeso, PhD, as the 2022 recipient of the Florence R. Sabin Award. The Sabin Award recognizes a unique individual who embodies the spirit of Dr. Florence Sabin (1871-1953), who broke scientific and social barriers with her research and community engagement. Sabin was known as a brilliant scientist, a trailblazer and role model for women in the medical profession and a steadfast believer in equal opportunities for women. The award is open to members of cardio/vascular biology communities who have worked as scientists, physicians, or physician/scientists. Candidates must have distinguished themselves in at least one of the following areas: promoting diversity, equity, and inclusion in social issues which benefit underrepresented groups, public health, or public service to the broader community, in addition to their scientific/clinical accomplishments. This year's award will be presented to Dr. Eniola-Adefeso on Thursday, October 13, 2022, at the 22nd International Vascular Biology Meeting.
Dr. Eniola-Adefeso currently serves as Associate Dean for Graduate and Professional Education in the College of Engineering at the University of Michigan. She also is University Diversity and Social Transformation Professor in the Departments of Chemical Engineering and Biomedical Engineering, Macromolecular Science & Engineering. She earned MSE and PhD degrees in Chemical and Biomolecular Engineering from the University of Pennsylvania. Following post-doctoral study in immunology and leukocyte biology at the Baylor College of Medicine, she joined the Michigan faculty in 2006, rising to the rank of Professor in 2017. Her research interests remain related to immune cell behavior in inflammation and the potential of vascular-targeted carriers as intravascular drug-delivery vehicles.
While Dr. Eniola-Adefeso has had an impressive career as a researcher, her efforts and accomplishments as a champion for members of under-represented minority groups in science and engineering have been especially notable. Her leadership in this regard has transformed the biomedical engineering field. She changed the Department Chair hiring process at the University of Michigan, founded the NextProf PathFinder program that has benefited more than 100 URM graduate students. She increased the URM and Women American Institute for Medical and Biological Engineers Fellows by an incredible 50% and 35%, respectively. She founded the BME UNITE movement and wrote two influential articles in Cell ("Fund Black scientists") and Science ("Director Lander, the time is now") that were recognized at the highest levels of the US government.
Those writing in support of Dr. Eniola-Adefeso's nomination were united in their admiration for her commitment to Diversity, Equity, and Inclusion. "The common thread through her long record of impactful leadership roles is her unwavering focus on dismantling barriers that underpin the academy's lack of diversity. She understands that diversity is the tool by which we achieve excellence, and that a diverse student body needs a diverse faculty to flourish." She has sought not only to diversify faculty in the present, but also the cadre of trainees who will comprise the faculty of tomorrow. Her trainees have been successful as students and beyond in the workplace. "She has shown that she has the vision and idealism to move the profession into new territory, brilliance to spawn an entire movement of faculty that rise together to move the needle towards a more diverse, equitable, and inclusive profession, and the discipline and bravery to carry her vision through. Simply put, she is the change agent our discipline needs."
Please join us in Oakland this October to honor 2022 Sabin Award recipient, Dr. Eniola-Adefeso.