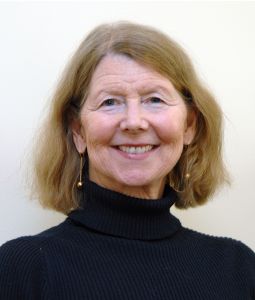 Joyce E. Bischoff, Ph.D.
he NAVBO Meritorious Awards Committee and Council are pleased to announce the selection of Joyce E Bischoff, PhD, as the 2022 recipient of the Earl P. Benditt Award, in recognition of her numerous contributions to our understanding of vascular development, the cell biology of hemangioma, and the plasticity of cardiac valve endothelium.  Dr. Bischoff is currently Professor in the Department of Surgery and Member Biological and Biomedical Sciences Graduate Program at Harvard Medical School. She also holds an appointment in the Vascular Biology Program at Boston Children's Hospital. Dr. Bischoff will present the Benditt Lecture and receive the award, one of NAVBO's highest honors, at the 22nd International Vascular Biology in the San Francisco Bay Area (October 13, 2022).
Dr. Bischoff earned an undergraduate degree in Chemistry at Duke, followed by a PhD in Biochemistry from Washington University, St. Louis, in 1985.  She then pursued postdoctoral research with Harvey Lodish in Cell and Molecular Biology at the Whitehead Institute and joined the faculty of the Department of Surgery at Harvard Medical School in 1990. She rose to the rank of Professor of Surgery in 2010.
Dr. Bischoff is recognized internationally as an expert in the roles played by endothelial cells and pericytes in normal vascular homeostasis and a variety of vascular diseases. For decades, her lab has studied hemangioma, a fast-growing vascular tumor that can causing organ damage, disfigurement and other morbidities. Her lab has used cellular and animal models to identify molecular mechanisms and new therapeutics that safely can prevent hemangiomas from growing to an endangering size. More recently, her lab's work on vascular neoplasia has extended to poorly-understood capillary, lymphatic, and venous malformations distinct from hemangioma but are also and medical therapies are needed.
In pursuit of cell-based therapies for cardiovascular insufficiency, Dr. Bischoff and colleagues have investigated the utility of endothelial progenitor cell populations for endothelializing vascular grafts in large and small animal models. sheep model and for building networks of human blood vessels rapidly in vivo using athymic nude mice. Their studies have revealed that endothelial colony forming cells can assemble into perfused vessels when injected into ischemic rat myocardium, promoting recovery of heart function over time. Heart valve endothelial cells have also been a focus of Dr. Bischoff's interest, owing to their unique plasticity compared their counterparts lining large vessels or microvessels.
Dr. Bischoff has published more than 115 peer-reviewed papers and dozens of reviews and served as a Co-Editor -in-Chief of the Springer journal Angiogenesis from 2005-2020. She has received numerous honors and invited lectureships and has served NAVBO both as a Councilor (2005-2008) and as President (2015-2016).
Colleagues writing in support of Dr. Bischoff's nomination noted that the journal Angiogenesis rose in stature and impact factor under her editorial guidance, and younger colleagues highlighted her generous mentorship and willingness to share the benefit of her experiences as an educator and researcher. "She epitomizes the notion of leading by example while passionately embracing scientific rigor with a uniquely kind and humble touch. She never misses the opportunity to give full credit to her mentees and colleagues, demonstrating how much she values them. Indeed, the greatest testament to Dr. Bischoff's role model in science is the research emanating from her many trainees' independent laboratories."
Please join us at IVBM2022 at the Oakland Marriott City Center this October to honor Dr. Bischoff as she receives this well-deserved award.